Our Dentists
Welcome
Welcome to our office! On behalf of our dental team we would like to welcome you to our website and introduce you to Dr. Kanani's and teams at the Kitsilano Dental Group.
Our dental team has had extensive dental training, making them some of the most skilled dental professionals in Kitsilano. We are dedicated to helping our patients realize the best and healthiest smiles possible, in the most gentle and caring manner
Our commitment to excellence in personalized dental care enables us to provide the quality dental services our patients deserve. We provide comprehensive treatment planning and use restorative and cosmetic dentistry to achieve your optimal dental health. Should a dental emergency occur, we make every effort to see and care for you as soon as possible.
Dr. Nazeem Kanani
Dentist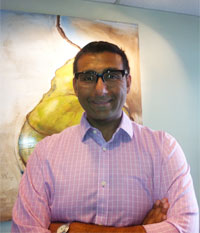 Nazeem loves dentistry, and looks forward to taking care of peoples dental health. He has a keen intersest in cosmetic dentistry, Invisalign and helping people get out of pain. He has lived in Vancouver most of his life, except for when he obtained his BSC from McGill University in Montreal. After experiencing winter out east, he realized Vancouver was the best place to live, and settled her in 1996 after graduating from UBC.. He enjoys golf, tennis, cooking, reading, and traveling. Nazeem looks forward to meeting you at your next visit to the office.
Dr.Susan Cipp
Dr.Darrell Rea
Contact us today!
Dr. Nazeem Kanani
Dr.Susan Cipp
Dr.Darrell Rea
Monday - Friday :
08:00am - 05:00pm
Email : kitsilanodentalgroup@gmail.com
Phone : (604) 736-8051
Our Office address is:
2705 West 4th Ave.
Vancouver, BC V6K 1P9
Directions